From the 1st April 2018 new rates have been applied for the National Minimum Wage (NMW) and National Living Wage (NLW) (aged 25 and over)  and employers must ensure that they have implemented them accordingly.
The rates are as follows: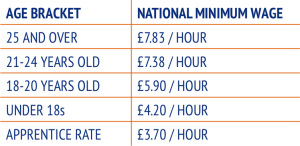 If you are failing to comply with the new NMW/NLW obligations you are at risk of a severe fine. By and large, the penalty percentage which may be enforced for non-compliance is now 200%. The maximum penalty charge is a huge £20,000 per worker, however it could be decreased by 50% if the unpaid wages and the penalty are paid within 14 days.
 National Minimum Wage
 Who does the National Minimum Wage apply to?
Establishing whether a person is entitled to the NMW can be difficult, but the basic rule is that if someone is doing real work and is paid more than genuine out of pocket expenses or has some future benefit promised they must be paid the NMW. This particularly applies to interns and work experience places as well as some volunteers. It is important to understand that such people cannot sign away their rights to this by agreeing to work unpaid. It is also a fact that employers have no choice but to become familiar with the NMW regulations, as the penalties for not doing so can be ferocious.
The NMW applies to anyone working in the UK who is over compulsory school age and includes anyone under contract to personally perform work for a third party. This, therefore, covers:
Agency workers
Apprentices (over 19 who have completed the first year of their apprenticeship)
Home workers who are not genuinely self employed
Pieceworkers
Some workers are not entitled to NMW. These include:
Company directors
Higher and further education students on a work placement up to 1 year
Some volunteers (particularly those at charities or fund raising organisations)
Young workers of compulsory school age
For further information on the NMW do not hesitate to contact our Payroll team on 01252 733683 or at Payroll@mspsecretaries.co.uk